Admissions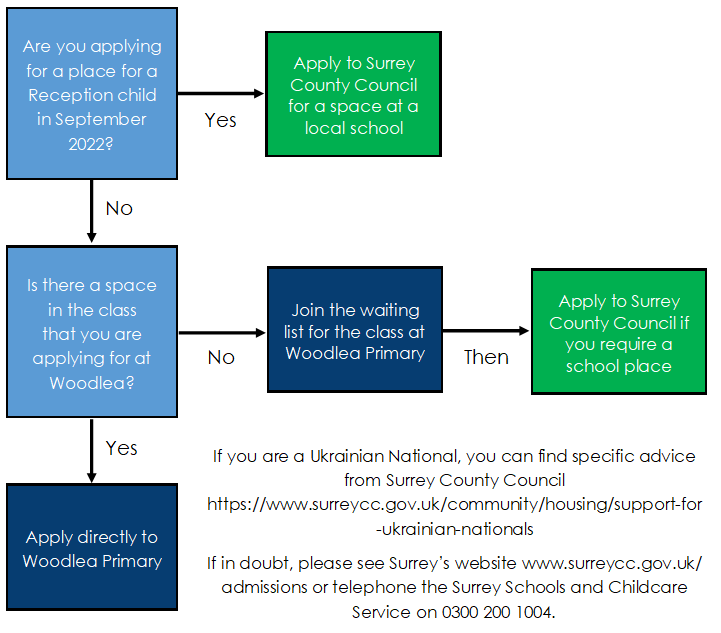 Open Morning
Our next open mornings will be held at 9.30am on Thursday 6th October 2022, Wednesday 2nd November 2022 and Monday 5th December 2022. Please contact the school office to book your appointment either by telephoning 01883 652358 or by email to info@woodleatlt.co.uk giving your child's name and date of birth.
Children are admitted according to our admissions policy. Click below to see our admission policy for September 2022 :
Admissions Policy for September 2022 Intake
Catchment Area Map for September 2022 Intake
Please note that we have many families outside of the catchment map seen above. Lots of our families travel from Caterham and Warlingham, or even further beyond. If you are concerned about how far you are from the school, do get in contact with our Admissions Officer.
Applications for a place at Woodlea have to be made online via Surrey County Council. The closing date for on-time applications was 15th January 2022, For further details about the admissions process, please visit: http://www.surreycc.gov.uk/admissions
IN YEAR APPLICATIONS - 2021-22
If you have moved into the area and require a place in any year, please contact the school office to discuss your place on the waiting list. Your child will be placed on the list in accordance with the admissions policy. Click below to see our current admissions policy for in-year applications. To make an application, please click on the link below to access the application form via Surrey Admissions website:
Admissions Policy for September 2021 Intake